Welcome to Trodosoft premium solution providers in Pakistan! As you know the role of a website in the success of a business. Our expert web developers in Pakistan provide the best possible services to help you grow in the online market. Trodosoft web development services in Lahore, Pakistan include a range of web development services including responsive web development, custom e-commerce development, website redevelopment services, etc. will help you make your brand stand alone. So don't just wait we are the digital solution providers that can help you grow your online business.
Best Web Development Company in Pakistan
As web development is getting more and more advanced day by day the demand for web development services in Pakistan is also increasing in the Pakistani local market. Our masterly tailored website development services and exceptional expertise have made us one of the top-rated web development company in Lahore, Pakistan.
Front-end is parts of a website or application that interact with your audience so it has to be built for a better Experience. We've got a dedicated team of web developers ready to work with you to make your business accessible through an engaging and functional website. We build sites using the very best open source platforms keeping your business secure and at the cutting-edge of technology.
Technologies that we use for our front-end web development services are:
The back end includes the server, app logic, and database parts of a website or web application. Programming languages like PHP, Python, Ruby, Java, and C# are used to maintain server-side logic and connection to databases. Our team brings together expertise across the entire spectrum of back-end technologies to provide enterprise-grade solutions.
Technologies that we use for our back-end web development services are: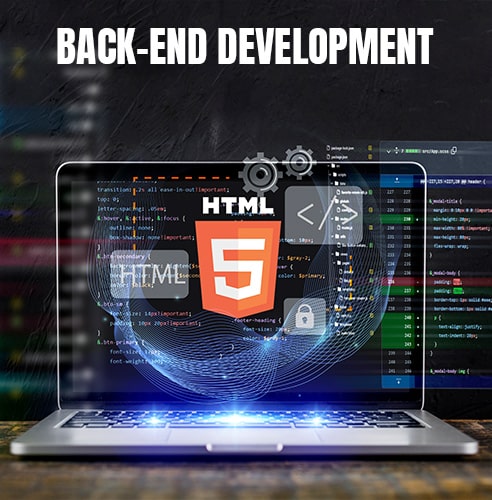 Why Choose Our Web Development Company
Our Experience in Web Development
No matter what you're looking for we have our expert website developers help you create websites no matter your requirements we will help you by creating from open source to fully custom built designs to get the desired results in just some clicks. Our web design and web development company has been on the scene since 2015 and worked with more than 150 clients to grow their local business online.
Security, Speed and Reliability
Security is a big issue when it comes to your website. Sometimes it is the only asset some small business owns so it has to be secure. Alongside the security, the website speed also holds a vital importance. Every search engine wants to promote a business website with high speed that will automatically promote their user's experience. Our web developers work closely with SEO professionals to get advise on the dos and don'ts of website development service.
Our every project is optimized for viewing on mobile devices such as smartphones and tablets as far as user need. We build fully responsive sites leveraging the latest frameworks so your content shines on any device. From iPhone and Android optimization to emerging technologies like foldable displays, we develop mobility in all its forms so your customers enjoy flawless mobile experiences.. Our web development services in Lahore, Pakistan bring your designs to life, add the content to the site written by professional content writers in Pakistan, and ensure it is responsive for all devices. Our developers are experts in this field, so they know exactly how to make a site to be responsive.
All Your Queries Are Answered
At trodosofts, we've got your back when it comes to answering all those burning questions. No query is too big or small for our team. So consider us your go-to source of knowledge. We're here to ensure that every uncertainty finds its resolution.